Archives For Religion
"Through the church the manifold wisdom of God might now be made known to the rulers."
–Paul, Ephesians 3:10
Today has been another long day, but there were two moments that stuck out as specific reminders that God is in control over everything. It happened the first time while we were getting ready for our craft time during the VBS at the school we were at today. It was looking like we were not going to have enough crafts for all the kids. This was mostly due to the fact that when we showed at the school all the students' brothers, sisters, cousins, and everyone else under the age of 12 showed up too. We had prepared for 75 kids, but probably had about 125 kids all together that were there.
Just as the team members who were overseeing the crafts were about to really get worried I was handed about 50+ coloring books and crayons. It was a reminder that God gives us just exactly what we need exactly when we need it. His plans are higher than our plans and he knows exactly when to provide what we need. God's timing is good.
The other time I was reminded of God's Sovereign power was at the church service. We again attended the church that meets on the property of Promise Home. I was able to preach on Matthew 5:13-16. But at the end of the service the local pastor led the church in the Spanish version of "How Great Thou Art." Us North Americans were able to sing along with our Central American armanos y armanas (brothers and sisters) in praise of God.
Even though we separated by a great distance, culture, and language we serve the same God. It was a refreshing reminder that the church is indeed one body.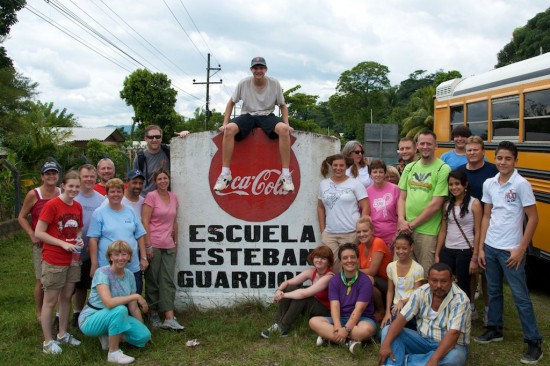 Today we visited a village school to love on kids. One of the main things we did was put on a VBS-style outreach with about 85 elementary aged kids. What a blessing to serve. I can't say enough about how great our group is. Everyone has been ready to jump in, get awkward and foolish for Jesus, and serve.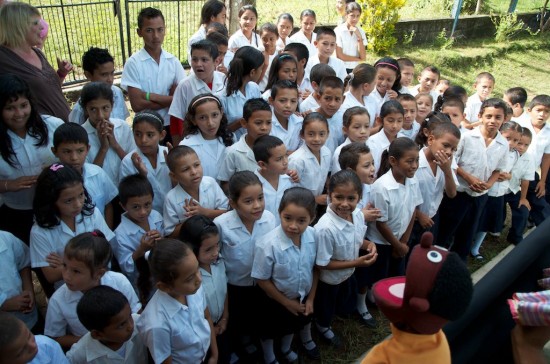 In our group time tonight there were some great insights shared. First, one of our members talked about how you can tell a big difference between the kids who don't have a parent and those who do. At the orphanage, as soon as we walked in the kids were wanting us to hold them, hold their hands, sit in our laps, and just be loved. At the school, the kids were happy to have us there, but they were more interested in the activities. A big thing that was different was the craft time. The kids were all excited to bring their project home to show it off. That didn't happen yesterday.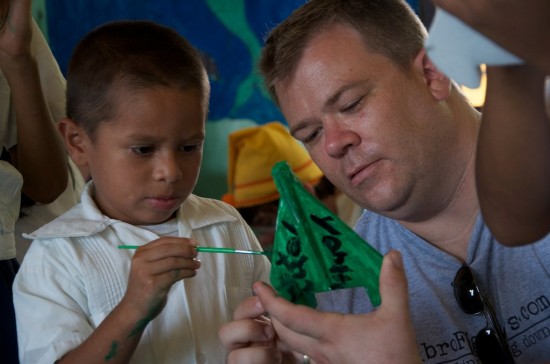 Overall, we're sensing how much of what we are doing this week is more than just about this week. We are partnering with Promise Home to establish a foundation of relationships that will have an impact for both eternity and the long-range future of the country of Honduras. Who knows which kids might grow up and become advocates in their government for the 200,000 orphans in this country?
God has a plan to change lives and it's an awesome privilege to be a small part of that plan.
Today was a really, really good day. Our group traveled to Nueva Esparanza Orphanage in San Pedro Sula, Honduras. There were a lot of surprising things, some good things, and some heart-wrenching things.
What initially surprised me was the conditions of the orphanage. We had seen videos and photos from Promise Home about the terrible conditions these children live in. What we experienced didn't match how bad I had expected things to be. I'm not saying these children have it easy, but things have improved there over the few years Promise Home has been working with them. They have a director who has been there a year who has improved the conditions considerably. There was some fighting that broke out between the children, but it never got too out of hand.
What was great about today was the chance our group from BridgeWay Church had to love on these kids. I shared with the group tonight the words Jesus said in Matthew 25:40, "As you did it to the least of these my brothers, you did it to me." What's awesome for us, as Christians, is when we reach out to people who are in situations like we saw today at the orphanage we get to physically love Jesus. Those kids today represent a calling that all believers in Christ have to love everyone and to anything to reach people with God's love. What an awesome privilege to serve.
One of the hardest moments for me today happened right after the kids were finger painting. When I'm at home with my girls, coloring is a big deal. We marvel at the works of art that Emory creates and she LOVES to run and put everything she makes onto the refrigerator for her mommy and daddy to see. She does this because she knows we love her and want to enjoy everything she does.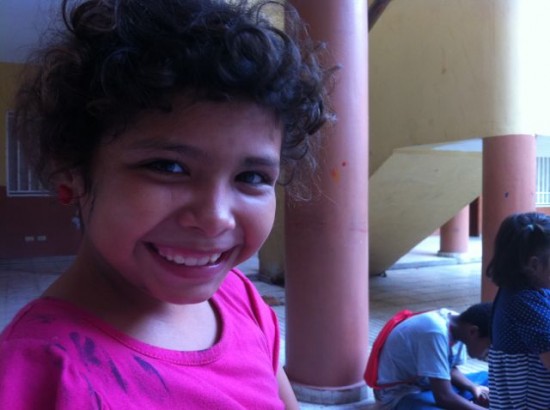 At the orphanage, those kids don't know that love. They don't know what it feels like to be valued. To be someone's prized possession so much so that even a simple piece of paper they color on would be something someone would want to keep. I know this because when they got done drawing they picked up their paper and brought it over to be put in the trash.
I wish these children knew the love of a mom and dad. I'm glad I was able to give them
Day 2 of our mission trip to Honduras was MUCH less eventful than Day 1 (in a good way). The day started out with a fantastic meal from our hotel before we headed out to worship at the church that meets at the Promise Home property. It was awesome to be worshipping together with people from another culture, but knowing that even though you speak (and sing) a different language you're singing praises to the same God.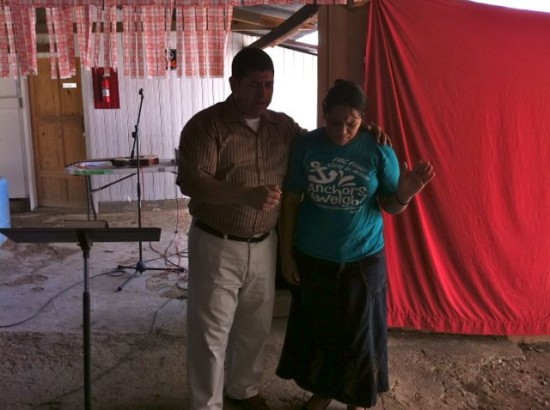 I spoke briefly during the worship time and decided to talk a little about Galatians 2:20, since that's the passage Frank Nichols preached from back home at BridgeWay. It was cool picturing the Body of Christ spread out worldwide preaching the same message.
After lunch we were able to tour part of the property of Promise Home…in the rain! Sometimes having to walk through the rain would not be fun, but we haven't had rain back home in so long that it was awesome to do it today.
The main thing they have been working on at the site so far is the tilapia ponds that will fund the orphanage in the future. Our group was able to feed the fish, so it was cool to physically take part in a process that will literally rescue orphans from a world of loneliness and despair.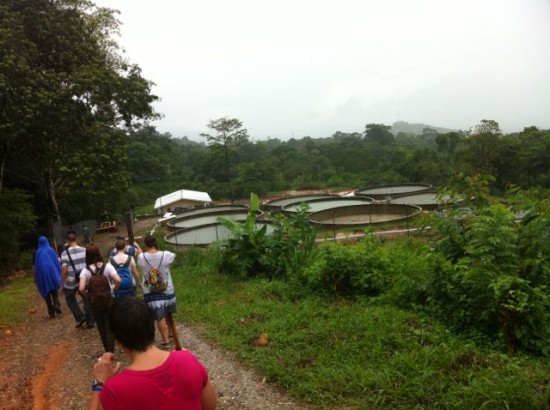 We also got to see where the first home will be built. Hopefully the next trip we take the house will be constructed and the first orphans will be living on the property.
Overall it was a great day. Tomorrow we visit a state-run orphanage, which will take an emotional toll on us all.
I'm traveling this week with a group of 21 people from my church with Promise Home Orphanage in Honduras. Today we traveled from DFW to El Progreso. The original plan was to travel on Continental through Houston, but God had other plans.
Instead of arriving in Honduars in under five hours of travel, we ended up on American Airlines going through New Orleans, Miami, and finally to San Pedro Sula in over 12 hours of travel. The great thing about it all was that everyone made it at the same time and all of our baggage arrived, too! I can honestly say there were at least three times today that I didn't think I would be able to say that.
There were so many things that had to line up perfectly for us to get here. I have no doubt that God worked it all out. When I'm less tired I'll elaborate more.
I'll be updating every night on my blog, so you can keep up with how the trip is going. Thank you to everyone who has supported us both in prayer and financial support.
One of the most interesting quotes that I've read coming out of the failed prediction/calculation of Harold Camping that Judgment Day would by May 21, 2011 came from the USA Today. Dennis Cauchon writes:
Some Family Radio staff members said last week that most employees planned to be at work today and that most workers were skeptical about the doomsday prediction.
What does it say about a leader when the people closest to him, at least in physical proximity, didn't even believe him?
What could have happened if these staff members would have spoken up? How could have the lives of the hundreds(?) of people who gave away their life savings, quit their jobs, and will likely emerge from this fiasco with their faith tarnished been kept from being negatively impacted?
Thoughts?
It's Saturday, May 21, 2011 at about 5:00 central time, and if I finish writing this article, Harold Camping's prediction of the rapture taking place right about now will prove to be wrong. I have a really good feeling that this article will be posted and if you're reading it then obviously the time has passed with no rapture.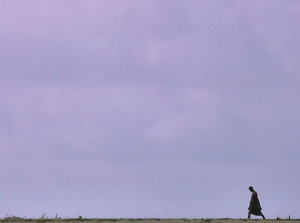 The USDA today released a shocking recommendation on how to lose weight: eat less. Stop the presses. Why didn't anyone tell me this before? I wonder how many millions or billions of dollars of research went into that hidden jewel of knowledge that only our government could have discovered?
In somewhat related news, this week Brea and I are fasting from television. We started Sunday and won't watch anything until the Super Bowl.
We've both been watching way too much TV recently, which has been distracting us from spending time reading, studying the Bible, and doing other non-TV type things. We want to spend less time on unimportant things to devote more time to what's really important.
I mentioned in my sermon today I'd be posting my notes, and here they are. If you'd like to download the slides you can do so here.
from the sermon is embedded below.
My manuscript from this sermon is below.